Protecting Thailand's Homeless Dogs and Cats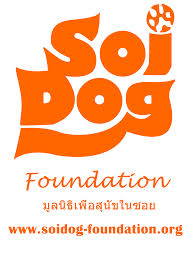 There are millions of neglected cats and dogs in Thailand, many of whom suffer from illness, injury, and abuse. Every day, puppies are born in the streets and struggle to survive. Furthermore, Thailand's dogs are stolen and smuggled to Vietnam where they are cruelly slaughtered and sold for meat.
Soi Dog Foundation, founded in Phuket, Thailand in 2003, is the largest organization in Southeast Asia helping stray animals. It operates Thailand's biggest no kill shelter as well as a permanent clinic in Bangkok. Due to Soi Dog's accomplishments, Phuket's street dog population has dramatically declined and Phuket has been declared Thailand's first rabies free province.
The mission of Soi Dog Foundation is to improve the welfare of dogs and cats in Thailand, resulting in better lives for both the animal and human communities, to end animal cruelty, and to ultimately create a society without homeless animals.
Soi Dog Foundation has always focused on making a significant and sustained impact, primarily through large scale sterilization – the only method demonstrated to effectively decrease stray animal overpopulation. Additionally, Soi Dog campaigns against animal cruelty and rescues animals from disasters, activities that also have large and long term effects.
Soi Dog Foundation's main aims are to:
• Sterilize dogs and cats to prevent unwanted puppies and kittens and reduce overpopulation, which is the root cause of most stray animal problems
• Eliminate the cruel and illegal dog meat trade between Thailand and Vietnam
• Save dogs from the meat trade and provide them with food and treatment
• Help animals in disasters (such as the 2004 tsunami and 2011 Bangkok floods)
• Rescue and treat sick and injured stray cats and street dogs
• Shelter and rehome animals who are victims of cruelty
• Educate the public about animal welfare
Thailand's dogs and cats need your help.Your support makes this work possible.
Soi Dog is a registered charity in Thailand, USA, UK, Australia, Holland & France.
Learn how you can help at https://www.soidog.org/ and follow Soi Dog's work at https://www.facebook.com/SoiDogPageInEnglish